Join WVELA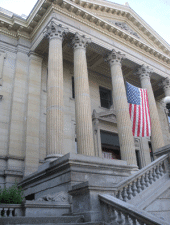 We welcome new members of WVELA. The annual membership fee is $75, and here are the requirements for membership:
1. You must be licensed to practice law in the State of West Virginia.
2. For the time you spend on handling of employment, you must spend more than half of that time representing employees. You must certify that fact in your membership application.
To join WVELA:
Click here to open the application, fill it out, and send it with a check for $75 (payable to WVELA) to Walt Auvil (WVELA's Treasurer) at Rusen & Auvil PLLC, 1208 Market Street, Parkersburg, West Virginia 26101, Phone: 304-485-6360. (The downloadable application form above is an Adobe Acrobat PDF file. You will need a PDF file reader to open the document, and you can click here to download Adobe's free Reader program. Here is a Microsoft Word version of the application.)
Contact Jane Peak and provide her with your email address so you will be added to WVELA ListServ (which is described below).
Contact Drew Capuder and provide him with your complete contact information, email address, and firm web site for inclusion in the Members page of this web site.
| | |
| --- | --- |
| Benefit | Description |
| Business development | This web site, and the networking of its members, provide valuable tools for potential clients to find you to help them with their employment-related legal needs. |
| Shared expertise of members | WEVLA's members are amongst the most experienced employment litigation lawyers in the State. Our members routinely share their expertise. |
| WVELA's ListServ (Email group) | WVELA's email ListServ provides its members with one of its most valuable assets. We routinely exchange emails and share expertise through case experience, legal research, knowledge of cases and judges, and briefs & forms. The ListServ contain a searchable archive of all of the groups emails since 2003. |
| Amicus briefs | Lonnie Simmons is chair of WVELA's Amicus Committee, and WVELA has filed numerous amicus briefs with the West Virginia Supreme Court on important issues affecting West Virginia's employees and WVELA's members. |